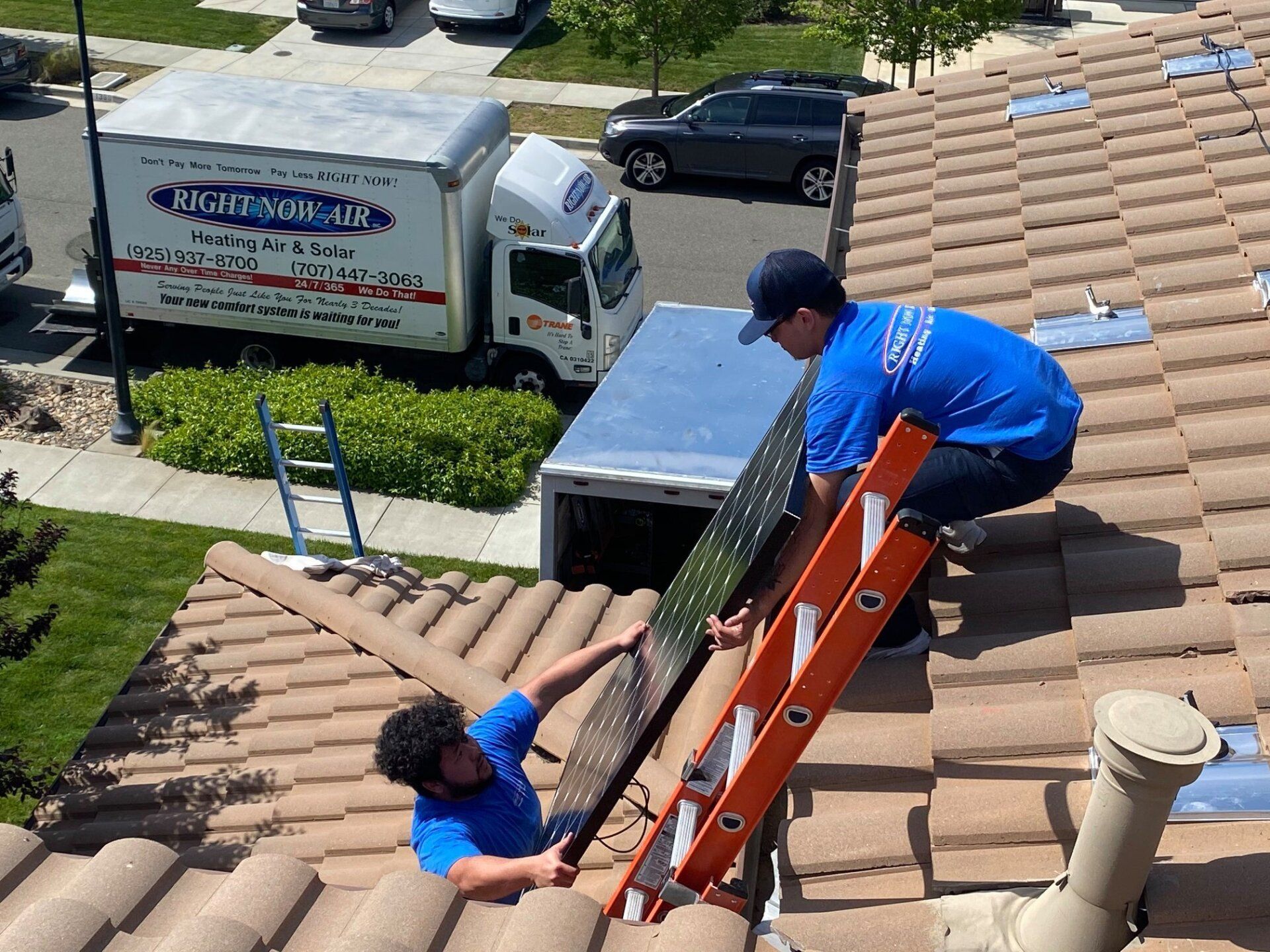 Right Now Air & Solar is the leading HVAC and solar company in Vacaville. We use our experience and expertise to create customized solutions for families in our communities while building lifelong relationships with our clients. We don't just want to be another HVAC company; we want to be your HVAC company. 
Our ability to understand and meet specific customer needs gives us a competitive edge over other players in the industry when it comes to diagnosing issues. We are committed to a greener, cleaner, and healthier Vacaville. Our experts help families avoid hassles while going solar by being subject matter experts on whole home energization and how HVAC systems can impact one another.
Every member of our team has a proven track record of success and meets the high standards held by Right Now Air & Solar. They use their know-how to create value for our customers and create a truly great installation or repair experience. Whether you have a minor HVAC problem or are grappling with a major issue, our team will have a solution that will quickly, reliably, and expertly have you up and running. 
We are committed to creating value for our customers by using state-of-the-art equipment and time-tested techniques to deliver exceptional value.   
Why Choose Us? 
We are not your run-of-the-mill HVAC and solar company. Unlike many other HVAC and solar companies that are only concerned with profitability, we focus on building long-term relationships with our customers and creating value for our customers. 
We work to have an in-depth understanding our customer's pain points. We use this understanding to create highly effective solutions. Right Now Air & Solar is a customer-focused company. 
We Offer Free, No-obligation Estimates 
We offer free estimates for a wide variety of services including:
Water Heater Installation, Repair, and Maintenance 
HVAC System Installation, Repair, and Maintenance 
Ducting & Insulation Installation and Repair
Water Purification System Repair and Replacement 
Air Quality Checks and Evaluation
Solar System Installation, Repair, and Maintenance
Need an estimate for a job? Give us a call. 
We will need some information to assess the nature and scope of your project. We try to keep our estimates as accurate as possible and have zero hidden fees. 
Your estimate will include a breakdown of all costs involved in your project. If you do not understand a particular cost element and need an explanation, do not hesitate to call us. 
Our Team 
Our technicians are thoroughly trained and certified and bring years of experience to the table. They know what can go wrong during a project and take steps to steer clear of any potential issues. They expect the best, yet prepare for the worst. 
Our pros know a thing or two about HVAC and solar systems and they extend this experience along to you. They work to teach our customers how to use their HVAC and solar systems to get the most out of them. Our team will teach you tips and tricks to extend the useful life of your HVAC or solar system. 
Any HVAC or solar system issues should be addressed at their source to keep them from returning, rather than continually battling the symptoms. No one knows this better than our team as the best way to provide value isn't just to fix an issue, but rather to prevent the issue from returning. 
The day you stop learning is the day you stop growing. Though subject matter experts, our technicians are always eager to learn new skills and techniques. We keep on top of industry trends and are always on the lookout for opportunities to add new skills to our repertoire. 
Round-the-clock Services 
Whether your HVAC system develops a problem during normal working hours or breaks down in the dead of the night, we have you covered. With 24/7 availability, you can rest assured that someone from the team at Right Now Air & Solar will always be available to assist you. 
100% Satisfaction Guarantee  
Our satisfaction guarantee applies to every project. We go the extra mile to maintain the quality of workmanship that our customers have come to expect from the Right Now Air name. However, if you are not happy with something we installed, we are always prepared to fix the issue and make things right. 
We Help You Claim Tax Rebates When Going Solar 
Many homeowners feel overwhelmed by the high costs involved in going solar. Switching to solar may not be as expensive as you think. You can earn solar tax credits with intelligent investment in your home's solar system set-up. Our team will not just explain to you how tax credits work, we can help you claim them. 
We help homeowners circumnavigate bumps in the road when switching to solar. We will help you create the right solar system for your home, determine the number of panels your solar system should include, and decide whether you need a solar battery. 
We are your go-to team for HVAC and solar system repair, maintenance, installation, and replacement. At Right Now Air & Solar, we keep our customers first. We go the extra mile to deliver projects on time, within your budget, and with a smile. We are more than just your maintenance and repair partners; we are a team you can rely on. To make an appointment, call our office at (707) 868-8736.