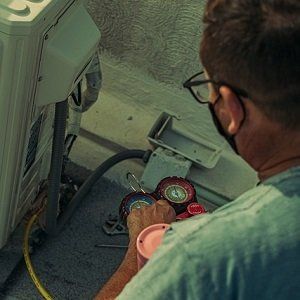 When their HVAC system breaks down, many homeowners decide to attempt to repair it themselves instead of reaching out to an HVAC company in Fairfield for help.
This can prove to be a very costly mistake. Fixing a cooling or heating issue might not be as straightforward and simple as it first seems. There are several risks associated with do-it-yourself fixes, especially with an HVAC unit. If you take the DIY route, you might end up spending more than you would have if you hired a professional and exposing yourself to other liabilities.
If your HVAC unit is acting up, here are some reasons to curb your enthusiasm and call a professional HVAC company.
You Can Injure Yourself and Others
If you make an error in judgment and touch an electrical component without taking adequate safety measures, you could get the 'shock of your life' and sustain life-altering injuries. Any person near you may also get injured.
An improperly vented system could cause carbon monoxide (CO) to build up inside your home. One mistake and copious amounts of CO could get inside your body. CO poses a serious risk! It can quickly reduce the amount of oxygen in the bloodstream, causing dizziness, unconsciousness, and even death. 
You May Inadvertently Void Your Warranty
Many HVAC manufacturers require owners to hire a professional for HVAC repairs to reduce risk. Taking the DIY route to repair your HVAC unit may void the warranty on it and you may have to pay out of pocket for any future repairs.
You May Make a Mistake
It is easy for the average homeowner to make mistakes with common tasks like ensuring optimal airflow and drainage or re-calibrating the thermostat. These mistakes can affect your system's ability to heat/cool properly. By the time you reach out to a professional for help, things can spiral out of control, and you may end up with an expensive repair.
HVAC problems can be deep-rooted. When you take the DIY, you might think you addressed the problem, but in reality, it may still exist. It can affect different parts of your system and may even cut short its useful life and you may have to replace it sooner than you expected.
You Do Not Have the Right Tools and Equipment
If you think you can repair your HVAC with household tools, you are wrong. Most HVAC repairs need a range of specialized repair tools and equipment.
HVAC technology is evolving. HVAC repair tools and equipment that you buy today may become obsolete tomorrow as manufacturers introduce new technologies. Additionally, you may use them incorrectly, and unknowingly end up damaging an important HVAC part.
HVAC repair tools are expensive, and you may need special training to use them. Hiring a professional to repair your HVAC makes better financial sense than repairing your HVAC yourself due to these costs involved with taking the DIY route.
You May Go Over Budget
HVAC repairs are specialized jobs with little room for errors. If you make a mistake, all your hard work may go down the drain and you may have to start afresh. 
If you do not understand how your system works, what role different parts play in keeping it functional, or have no experience handling repairs, you may end up spending more time on HVAC repair than a professional.
The longer you take to address heating/cooling issues, the more frustrated your household members may become.
HVAC Maintenance Tasks You Can Handle Yourself
You should resist the temptation to handle HVAC repairs yourself. However, that does not mean you do not have any role to play in keeping your HVAC functional.
You can prevent expensive repairs with regular HVAC maintenance. So, why wait for heating and cooling problems to pop up and then hire a professional to address them when you can prevent issues from occurring in the first place?
Perform these simple HVAC maintenance tasks to keep your HVAC in top shape.
Periodically Change Air Filters
HVAC air filters are one of the most important, yet ignored HVAC components. Your HVAC filters play an important role in maintaining indoor air quality and airflow.
Over time, filters become clogged with dirt, dust, and debris. Dirty filters can do more harm than good, negatively affecting system efficiency and performance.
To prevent problems, replace filters every 60-90 days, depending on the size of your family and whether you have pets, aging adults, or someone with a seasonal allergy at home.
Clean the Outside Unit 
Cleaning the outside unit of an HVAC is as important as cleaning the inside unit. Clean your outside unit at least twice every year – before summer and winter.
Get rid of debris sticking to different parts of the outside unit. Clean the coils with a coil cleaner and water. Straighten bent fins and replace the ones that are beyond repair. Trim vegetation around your outdoor unit.
Clean the Drain Line
Over time, dirt, dust, and debris can accumulate in your drain line, creating the perfect environment for mold growth. To clean your drain line, rinse it with a mixture of water and vinegar.
Right Now Air & Solar is a top-rated HVAC company in Fairfield. Our pros have years of experience installing, repairing, and maintaining different types of heating and cooling systems. To schedule an HVAC system inspection, call our office at (707) 868-8736.